Christian News
'Running from pimps': Colorado megachurch turns meth homes into a center for homeless moms
A nonprofit associated with a Colorado Springs megachurch has converted two former "methamphetamine houses" in the most violent part of town and incorporated them into a three-year-old program that is helping break homeless single mothers and their children out of the cycle of poverty.
Over three years ago, Mary's Home was launched in a renovated 3-story apartment complex in Colorado Springs to provide up to as many as 12 homeless women and their kids with a safe place as well as the mothers a chance at spiritual restoration and financial empowerment.
The program was named after Mary, the mother of Jesus, who, by historical accounts, was a single mother by the time Jesus died.
The two-to-five-year program is designed to provide homeless women with a sense of dignity by alleviating the common struggles that make it harder for those in poverty to break free from the factors holding them down.
But thanks to the purchase of two homes neighboring the apartment complex, Mary's Home (run by the ECFA-accredited nonprofit Dream Centers) will soon be able to provide up to 20 homeless moms and their kids renovated dormitory-style apartments in the complex.
Pastor Brady Boyd, the senior pastor of the 12,000-member, six-congregation New Life Colorado Springs and Dream Center's board chairman, told The Christian Post that many of the women who come to Mary's Home have never had a safe place to call home in their life.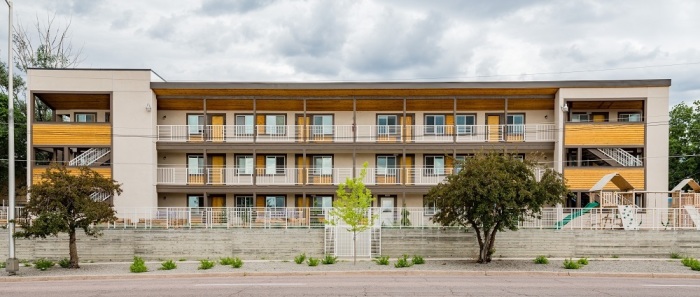 "So, a lot of these moms are running from pimps, they're running from violent boyfriends, abusive husbands," Boyd said. "So what we did is, we put in a really high-end security fence around the property. We have partnerships with the local neighbors who are helping us keep an eye [out]. So, the crime rate is actually gone down in the immediate part of that neighborhood because of the intentional security that we placed there."
Many of the women who end up at Mary's Home were once foster children who had no family to turn to for help.
In order to help these women break the cycle of poverty, the women are given free shelter, spiritual discipleship, transportation, and medical care through the Dream Center's local women's clinic.
The program also partners with local daycare providers and the government to provide childcare for the mothers.
"When a woman does not have safe shelter, access to a job and access to primary health care, they typically stay in a perpetual state of brokenness, poverty," Boyd explained. "We solve all those problems for them with housing, a safe place to live, food, transportation, medical care. And because of that, now they have hope and they have the ability to rise up out of the cycle of poverty."
And that is exactly what is happening, according to Boyd, who said the program has shown to have a 95 percent success rate. He told the story of one mom who moved out of Mary's Home after just two years and now runs her own refurbished furniture business in Iowa making an income of about $60,000 per year.
"She is completely independent and she's completely off government support," he explained.
The two new buildings, the second of which is nearly completed, will allow Mary's Home to move some of its administrative and programming elements out of the apartment complex to provide room for more families. With a 21-unit complex, Mary's Home can now have at least 20 moms and their families live there.
The first year that a mom is in the program, the focus is purely on respite care.
"We take care of everything. We buy formula, diapers, food, transportation, healthcare. They have zero expense," Boyd explained. "They are completely taking care of the first year so that the mom can really get care for her soul. And in many cases, she gets care for her physical body, emotional state or spiritual state. We just really immerse her into a really deep sense of love and care so you can get healing."
As for the second through fifth years of the program, women are aided in getting to a place of financial independence and healthy living.
As part of the program, the women go to church on Sundays and are involved in Bible studies and discipleship activities every day. Additionally, each mom has a mentor, coach or disciple who helps lead them through the program.
According to Boyd, "significant spiritual transformation" is happening in many of their lives.
"Social justice is evangelism. So we don't believe those two things are separated," Boyd said of the program. "We believe that … the Gospel is good news for those who have been out on the margins of the culture. We're seeing these women who had been heavily marginalized suddenly find hope in the Gospel. We can't tell them the good news of Jesus without feeding them and clothing them and housing them and giving them everything at our disposal to thrive."
With Dream Centers being its own nonprofit entity separate of New Life, Boyd explained that the creation of the nonprofit to do justice work in the community has provided the ministry with greater financial support and reach than could ever have happened underneath the church's umbrella.
Being a nonprofit organization provides Dream Centers and its subsidiaries — Mary's Home and the women's clinic — greater access to government grants. Additionally, the center is supported in donations from as many as 30 other churches.
"It has given me more access to the mayor, to state officials. It has revolutionized the witness of our church and our city," he explained. "Because now when anything that goes on in the city, I'm the first one they call. They asked me 'Can you help me? We know you love our city.' I hear this all the time."
Boyd has preached at New Life Colorado Springs since August 2007. The church's founding pastor, Ted Haggard, resigned in 2006 after being accused of paying a male escort for sex and was also accused of using methamphetamine.
"We felt like that this is a chance to redeem what God was doing in our church," Boyd said. "And so we just took a big risk, quite honestly as a huge risk to buy an apartment complex."
Boyd admits that launching Mary's Home was a financial risk considering the cost of the property and renovations that needed to be made to the apartment complex, and later, the two homes. Additionally, it can cost upwards of $35,000 per year or more just to provide the basic needs of these families. But Boyd asserts that it is nothing short of a miracle that the funds have been provided.
"I really don't know how we paid for it," he said. "But we did."
Source : Christianpost